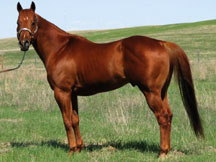 When the opportunity came up to breed to a Special Effort x Tiny's Gay stallion right here in Canada, we just couldn't pass it up. All Star Special is owned by Colin and Mary Balan of Bonnyville, AB.

SPECIAL EFFORT had a speed index of 104. He was the only horse to win the QH Triple Crown. He won the Kansas Futurity, Rainbow Futurity, & All American Futurity at two, also qualifying the fastest in the trials for each. He became the richest QH ever and first 2-year-old of any breed to win $1,000,000. He won the Kansas Derby at three. His race record is 15-13-0-1 with earnings of $1,219,950. He was a World Champion a champion sire. Offspring earnings of over $17 million. Sired such greats as Special Leader, Bully Bullion, Special Shake, The Informant, Strawfly Special. Outstanding broodmare sire.

The TINY'S GAY breeding shows up in many of the all time greats. There isn't room here to list them all but Dash Ta Fame, Merridoc, Assured Pleasure and Strawflyin Buds are a few of the better known ones that carry the blood of Tiny's Gay.

All Star Special is an outstanding looking individual with a real balanced profile. After the passing of our superstar "Magnum," we are keeping our fingers crossed in hopes that his mama: Brisk Sugarite will in fact be in foal to All Star when she comes home this fall.